Tathra Real Estate - Kalaru Real Estate - Wallagoot Real Estate - Bega Real Estate
Tathra Beach Real Estate Testimonials
Dear Natalie and your Team
Thankyou for your diligence and high level of professionalism in selling our home and garden. Your achievement was beyond our expectations with the inspections and handling of offers running so smoothly. Communication, sensitivity to our needs and your organisation is to be commended. Congratulations on such a brilliant outcome!
Kind regards and all our best wishes

Barbara & Mike (Vendors)
Natalie at Tathra Beach Real Estate sold my house for a record price in record time. To achieve this excellent result I witnessed her dedication, her intelligence, and her integrity to the sales process. This combined with a flexible, generous and educated manor provided for an outstanding result. Thankyou Natalie I wouldn't use any one else for buying and selling real estate
Michael (Vendor)
Natalie has been friendly, knowledgeable and prompt in her response to our queries. She is reliable and knows the Tathra market well and has good contacts. She made our purchase an easy and a pleasant experience.
Purchaser of land in Tathra
It was a real treat buying this property through Natalie at Tathra Beach Real Estate. Having an agent like Natalie representing the sale was like a breath of fresh country air. I had been looking in the city until this property came up and Natalies approach to real estate stood out above and beyond every agent. I appreciated her honest and personable manor it was like phoning a friend for some good old fashioned real estate advice. I would not hesitate to have Natalie represent me every time.
Purchaser of house in Wapengo
Natalie was wonderful to deal with in negotiating our house. She really listened and maintained great communication between myself and the vendor. I though Natalie was very genuine and went above and beyond to help.
Ian & Sarah (Purchasers)
We are so happy with the service provided by Natalie during the purchase of our new home. Natalie kept us informed and communicated all necessary information to us so that we could make an informed and ultimately successful offer on our new home. We can't wait to move into our new home and Natalie made the whole process stress free and calm. Natalie acted with integrity and we would have no hesitation recommending her to anyone about to sell their home or purchase a new one. Thank you Natalie!
Orla & Byron (Purchasers)
Many people say selling your house is stressful and they're not wrong but that process was minimised with Natalies help. She was friendly, respectful, knowledgeable, enthusiastic and professional. Thank you Natalie awesome job, if we had another house to sell you would get it hands down.
Quita & Liane (Vendors)
Natalie was fantastic the whole way thru our purchase. Nothing was ever a problem. She was patient and courteous and professional right thru the long arduous process while we organised our finance. Highly recommend!!
Thanks again Natalie

Purchaser of house in Tathra
Professional & reliable. We found Natalie to be incredibly competent in every way. We originally bought the house we recently sold through TBRE thus have now bought and sold through them. We loved Natalie's honest & straight forward manner and we felt we could trust her suggestions at every turn. She was reliable and efficient the whole way through. Natalie topped off our great experience with a pull price sale. Would use Natalie again and again.
Vendor of unit in Tathra
Excellent in every aspect.
We gave Natalie an immense challenge to sell our unique property - Natalie's engaging and genuine enthusiasm, precise knowledge of the market and selling processes combined with her high work ethic and professionalism made the selling of our home a great success. Thank you Natalie, you gave us confidence all the way and delivered ten out of ten.

Andy & Jody (Vendors)
Natalie was a most professional agent in tune with the shifting trends in the market. She sensitively dealt with the added strains of catering for both buyer and vendor during the restrictions associated with the pandemic. Her advice, appraisal and clearly articulated agency procedures resulted in seamless, easy viewings and a range of offers. Very efficient use of time with all parties being catered for. No false promises or hype, just a caring, conscientious, honest agent.
Vendor of house in Bega
Natalie was a fantastic agent to make a purchase through. She had exceptional communication skills and made our dream happen.
Purchaser of land in Tathra
Sound Advice and Great Salesmanship
When planning to sell our house, we approached Natalie for the best way to do this. Her advice was detailed and thorough. We did all she suggested which took some time to arrange but it was all worth it in the end. Our house sold quickly (within 2 weeks of going on the market) and above the asking price so we were very pleased. Natalie has excellent salesmanship and is thoroughly professional in all her dealings. We trusted her and so do the house hunters.

Dave & Sandy (Vendors)
Natalie provided a stellar service, always making time for our enquiries and being honest and factual in her information. She maintained an excellent communication bridge with the vendors and kept up with the details to make sure uncertainties were minimized. We recommend Natalie's services and the team at TBRE to other buyers or sellers.
Graeme & Jo (Purchasers)
Natalie and her team have been excellent throughout the sale process. As absentee owners we needed people on the ground we could trust and to assist with all purchaser onsite requirements and Natalie was very accommodating. Thank you again Natalie and the team at Tathra Beach Real Estate

Andrew & Delma (Vendors)
Natalie is a very confident, competent and professional Real Estate agent that is the sole Principal and sales agent in her very boutique sales office. Her success comes from a very proactive attitude, targeting the right buyer for the property that is presented for Sale. Her effervescent personality and sincerity gives her the edge in a very competitive market. Thanks for selling our home Natalie.
Peter & Carolyn (Vendors)
I have dealt with Natalie over a number of years regarding a potential sale of my house. When it came time to action the sale Natalie was highly active on the market. She quickly gave me an indication of pricing range and helped me understand recent transactions.
We agreed a strategy and within a few weeks we had a number of interested parties, several offers and closed a transaction that I believe was beneficial for all.
I wouldnt hesitate in recommending Natalie to anyone wanting to sell.

Andreas (Vendor)
As buyers, from our first encounter Nat was warm, friendly, approachable and professional. If we were to sell, Nat would be our first choice. Highly recommended!
Erin & Justin (Purchasers)
Natalie Sold Our Block
Natalie Scott is hardworking and professional, definitely the person you want to be selling your property. Natalie maintained good communication throughout and worked well with us, listening to what we thought were the important selling points and adding her own wealth of local real estate expertise. I would recommend Natalie as the agent to sell your property.

Deb & Ingrid (Vendors)
Hard working agent
We really enjoyed working with Natalie. Her hard work, astute market knowledge and professional approach brought our sale to fruition. We give our strongest recommendation to anyone wishing to engage Natalie as their agent.

Greg & Jenny (Vendors)
Natalie was extremely helpful and accommodating. Great communication and made the whole experience super positive and exciting!
Alliera & Mitch (Purchasers)
Natalie is a very thoughtful and at all times, meticulous in her approach to the marketing and selling of my property. I know that as the process has proceeded to a Sale there has been constant communication and care for the interests of all concerned. I would recommend her to anyone considering buying or selling in this area.
Margaret (Vendor)
Like dealing with your best friend!
Straightaway I was impressed with Natalie's friendly and empathetic manner and her ability to intuit the 'feel' of the property. Her suggestions to enhance my home were sensible, appropriate, creative but not costly. Throughout the marketing period, during drought, bushfires and then CoVID-19, she has remained supportive - honest and realistic but not pessimistic - and has never failed to report back after every inspection, thus keeping me informed. Her unfailingly pleasant manner and constant availability is underpinned by tremendous hard work, a drive to improve and a thorough and accurate knowledge of the local real estate market. It has been a pleasure to have her 'on my side' during the selling process and I will, and indeed already have, recommended her very highly to other prospective buyers and sellers.

Sylvia (Vendor)
Natalie was absolutely amazing in every aspect of our sale process. She was persistent and tenacious in her efforts to achieve a good price and sale of our unit. She arranged photos, adds on the Domain real estate site and local paper, suggested and arranged staging of the unit (furniture etc.) to make the unit more appealing (unoccupied) conducted several open house inspections and above all kept us up to date at all times re sales progress. Her efforts, ability and know how to achieve the amazing sale price we finally received, really went well over and beyond our expectations. We have no hesitation whatsoever in recommending Natalie and her agency to anyone looking for a vivacious, charming, approachable person to take care of their real estate requirements in a highly professional manner.
Gerry & Sue (Vendors)
A Genuinely Good Woman.
Nat was easy-going, light hearted and warm. Buying a new home is a big deal, and Nat made it a fun experience. I could trust her to check the details and communicate with the Vendor and tenant to make it serene and agreeable transition for all. Nothing was too much trouble for Nat. She was experienced and had really helpful ideas when I asked her thoughts.

Arati (Purchaser)
Professional and trustworthy
Natalie has a very good feel for the market and the local community. Her market evaluation of our property was spot on. Natalie kept us informed throughout the marketing campaign with regular feedback from all inspections and enquiries. The results were exactly what we wanted.

Gerard & Susan (Vendors)
We had a great experience dealing with Nat when purchasing our new house! She was always available for us when we needed, super friendly and easy to chat to and it felt like she was genuinely excited for us! Also, she helped us with every step of the process and we needed a lot of help as it was our first house purchase! Loved the experience and would highly recommend Nat to anyone searching for their new place in the area. She was fantastic!
Aaron & Bron (Purchasers)
To Nat and the Team
I would like to thank Nat and team of Tathra Beach Real Estate for their exceptional services. Nat you are very professional, hones and a great communicator! I do appreciate that you stuck it out and had faith in my circumstances. I couldn't of done this without your commitment! I am very happy. Thankyou.

Brad & The Gang (Purchasers)
Natalie was engaged to campaign to sell our rental house 18 months ago - with a market constantly changing including circumstances beyond everyone's control and expectation ie elections, bushfires, COVID etc. she has done a wonderful job by recently selling our investment property! As she always encouraged, there will always be someone out there for your particular property and there was! Well done Nat and thank you for your persistence with a smile!!
R & S (Vendors)
Great Service!
We found Natalie very professional, and always willing to help.
Would highly recommend

Shayne & Candace (Purchasers)
Dear Natalie,
Thank you so much for all the effort you put in to make the sale of the unit so extraordinary. We are so happy we have a great price and an early settlement. Forever grateful

Jenny & Wayne (Vendors)
Thanks Natalie. All the thanks goes to you for your wonderful negotiations and being a delight to deal with. I made the best decision right at the start to go with you. The next property is yours too, so hope you don't plan on moving anytime soon.
Jen (Vendor)
To Natalie "The Queen Bee of Real Estate"
A GIANT Thankyou, for all your patience, time and energy. You've made our dream a reality.

Two old farts, one young man & a fat black dog (Vendors
Dear Natalie
Thankyou. You are a wonderful real estate agent. Very professional and kind. Patience can also be added and going beyond your duty. Truly appreciated all your hard work

Julie (Purchaser & Vendor)

Wonderful Coastal Agent
Natalie was wonderful from the beginning to the end.
She was prompt, personable and professional at all times.
We would recommend her over and over.
What a pleasure to have an agent like Natalie in such a small community.

Kas & Jim (Purchasers)
As Easy As
Natalie gave us an estimated sale price for our house which was well above the figure we'd expected.
It sold to the first clients she'd showed through.
Within a few days we'd negotiated a very satisfactory price.
Natalie was very professional, gave good advice and made the whole transaction a smooth one

J & S (Vendors)
My heartfelt thanks Nat....to "the bestest agent"....and hopefully "friend?" as i felt such a strong connection between us. Thank you for being so wonderful Nat....and trust that you will stay in touch...not just on the 3rd....But whenever you find yourself out that way...call in for a cuppa...no need to call as you will always be welcome.
Angie (Purchasers)
Dear Natalie,
Thank you!
We really appreciate all the effort you put in to find our home & get us in as soon as was possible. Thanks for making the whole process very easy. We love our new home!

Belinda & Jim (Purchasers)
I would like to thank Nat, Colleen and the team at TBRE for such an easy experience with selling my home. They are professional and caring and nothing was too much trouble. I would thoroughly
recommend them.

Janelle (Vendor)
My experience, both buying & selling through TBRE, was an excellent one! Natalie is both professional and efficient and she made buying my new home a genuinely great experience. Thankyou so much Natalie & TBRE.
Lisa (Vendor & Purchaser)
Dear Natalie,
Many thanks for your very professional service and assistance in related matters which made our change so much easier than we had anticipated.

Gail & Ralph (Vendors)
Hi Natalie
Great job, thank you so much. Certainly will be passing any further business on to you!

Millie (Vendor)
Thank you so much too nat. you have been wonderful. Fully honest, trustworthy and communicative, and bloody hard working.
I will be singing your praises far and wide.

Jani (Purchaser)
Natalie,
Thank you for being my support person as well as real estate agent!
The house may have "sale agreed" without much hooha, but you are surely earning your money now. I don't think I'd be coping as well without you as the agent.

Diane (Vendor)
Dear Natalie
Thanks so much for all your help.
Our dealings with your office have always been fantastic. You are great rental managers and have been terrific in executing the sale.
Many thanks.

James (Vendor & Landlord)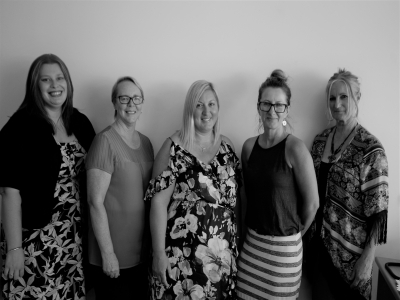 To the best Real Estate girls in Australia.
Thanks for looking after us so well.
Cheers,
Yvonne & David

YVONNE & DAVID EDWARDS